We provide the right pump for each application. For use in the chemical industry, environmental engineering, analysis technology, food technology and many other areas. You can choose from a wide range of products, of different types of pumps and materials.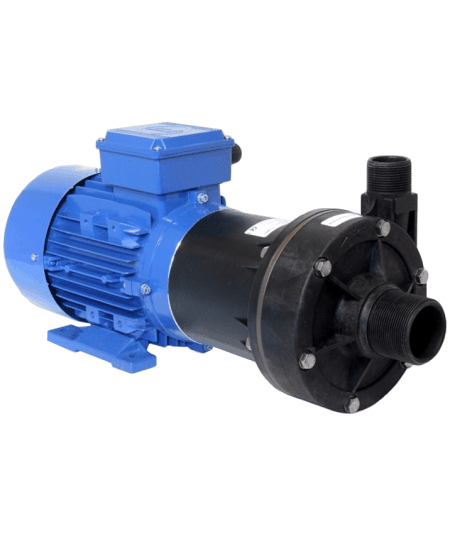 Centrifugal pumps with magnetic coupling are completely maintenance-free thanks to the exclusive use of static seals. In contrast to conventional centrifugal pumps with mechanical seal or shaft seal, centrifugal pumps with magnetic coupling are permanently protected against leakage. The power transmission from the motor to the pump head is done magnetically. The motor drives the outer magnet, which passes through its rotational motion by the isolation shell of the magnetic head located in the pump. The isolation shell located between the magnets is thus the barrier that separates the medium securely from the outside atmosphere.
Centrifugal pumps with shaft seal: The rotary motion and power from the engine must be transmitted to the pump impeller, without the pumped liquid leaking from the pump head. The separation between the pumped medium and environment takes place on the drive shaft. The seal may be executed as a shaft seal or mechanical seal. Shaft seals must be checked regularly for leaks. The safety and lifetime of these gaskets is extremely inferior to that of magnetic couplings.
Pump in block design: The pump head is mounted directly on the engine. The extended motor shaft drives the impeller directly or via a rigid coupling.
Pump on base frame: The pump head and the drive motor are mounted on a common base frame and are connected by a flexible coupling.

Request Form – Centrifugal Pumps
Pump Name
Flow
Pressure
Material
Datasheet
HPR 6/8
5,5 l / min (50Hz)
5,5 l / min (60Hz)
7,4 m (50Hz)
7,4 m (60Hz)
PPS
HBM 6/8
6,0 l/min (50Hz)
6,0 l/min (50Hz)
7,2 l/min (60Hz)
9,0 m (50Hz)
9,0 m (50Hz)
9,0 m (60Hz)
PPS
HPR 6/11
6,2 l/min (50Hz)
7,3 l/min (60Hz)
10,5 m (50Hz)
7,3 l/min (60Hz)
PPS
HPR 10/15
10,1 l/min (50Hz)
10,1 l/min (50Hz)
11,5 l/min (60Hz)
14,6 m (50Hz)
14,6 m (50Hz)
11,5 l/min (60Hz)
PPS
NDP 14/2
13,8 l/min (50Hz)
13,8 l/min (50Hz)
13,5 l/min (60Hz)
2,3 m (50Hz)
2,3 m (50Hz)
3,3 m (60Hz)
PP
PPS
DC15/5
15 l/min
6,0 m
PP
PPS
GP 20/12
17,4 l/min (50Hz)
12,7 m (50Hz)
PP
PPS
NEMP 20/12
17,4 l/min (50Hz)
e 12,7 m (50Hz)
PPS
GP 20/18
18,5 l/min (50Hz)
he 18 m (50Hz)
PP
PPS
NEMP 20/18
18,5 l/min (50Hz)
18 m (50Hz)
PPS
NDP 25/4
22,5 l/min (50Hz)
22,5 l/min (50Hz)
23 l/min (60Hz)
3,5 m (50Hz)
3,5 m (50Hz)
3,8 m (60Hz)
PP
PPS
NDP 25/2
27 l/min (50Hz)
27 l/min (50Hz)
21 l/min (60Hz)
1,6 m (50Hz)
1,6 m (50Hz)
2,1 m (60Hz)
PP
PPS
GP 28/11
29 l/min (50Hz)
11 m (50Hz)
PP
GP 25/5
32 l/min (50Hz)
5,3 m (50Hz)
PP
PPS
NEMP 25/5
32 l/min (50Hz)
5,3 m (50Hz)
PP
DC 30/5
≤ 35 l/min
≤ 5,0 m
PP
PPS
NDP 35/3
35 l/min (50Hz)
35 l/min (50Hz)
33 l/min (60Hz)
2,2 m (50Hz)
2,2 m (50Hz)
3,3 m (60Hz)
PP
PPS
GP 40/4
40 l/min (50Hz)
40 l/min (50Hz)
37 l/min (60Hz)
4,2 m (50Hz)
4,2 m (50Hz)
5,1 m (60Hz)
PP
PPS
GP 40/6
40 l/min (50Hz)
40 l/min (50Hz)
43 l/min (60Hz)
5,6 m (50Hz)
5,6 m (50Hz)
6,6 m (60Hz)
PP
NEMP 40/4
40 l/min (50Hz)
40 l/min (50Hz)
41 l/min (60Hz)
4,4 m (50Hz)
4,4 m (50Hz)
5,7 m (60Hz)
PP
NEMP 40/6
40 l/min (50Hz)
40 l/min (50Hz)
43 l/min (60Hz)
5,6 m (50Hz)
5,6 m (50Hz)
6,5 m (60Hz)
PP
DC 40/10 Bl
≤ 50 l/min
≤ 12,5 m
PP
PPS
NEMP 50/11
50 l/min (50Hz)
e 11 m (50Hz)
PP
NEMP 50/7
52 l/min (50Hz)
52 l/min (50Hz)
50 l/min (60Hz)
6,0 m (50Hz)
6,0 m (50Hz)
6,8 m (60Hz)
PP
PPS
GP 50/7
53 l/min (50Hz)
53 l/min (50Hz)
50 l/min (60Hz)
6,2 m (50Hz)
6,2 m (50Hz)
7,5 m (60Hz)
PP
PPS
DC 40/10
≤ 55 l/min
≤ 11 m
PP
PPS
NEMP 60/6
57 l/min (50Hz)
6,2 m (50Hz)
PP
GP 50/25
61,5 l/min (50Hz)
31,5 m (50Hz)
PP
NEMP 50/25
61,5 l/min (50Hz)
31,5 m (50Hz)
PP
PPS
NEMP 80/6
80 l/min (50Hz)
80 l/min (50Hz)
80 l/min (60Hz)
5,5 m (50Hz)
5,5 m (50Hz)
5,5 m (60Hz)
PP
PPS
GP 80/6
87 l/min (50Hz)
5,7 m (50Hz)
PP
PPS
HTP-SP Serie
100 l/min (50 Hz)
30 m (50 Hz)
PP
PVDF
NEMP 100/6
100 l/min (50Hz)
5,7 m (50Hz)
PP
PPS
HTTP ES
117 l/min
75 m
Stainless Steel
NEMP 120/8
117 l/min (50Hz)
7,2 m (50Hz)
PP
PPS
HTP Serie
133 l/min (50 Hz)
36 m (50 Hz)
PP
PVDF
NEMP 160/9
158 l/min (50Hz)
8,8 m (50Hz)
PP
PPS
NEMP 200/12
200 l/min (50Hz)
10,5 m (50Hz)
PP
PVDF
NEMP 270/17
300 l/min (50Hz)
16,5 m (50Hz)
PP
PVDF
NEMP 300/20
350 l/min (50Hz)
21 m (50Hz)
PP
PVDF
HCP ES
500 l/min
24 m
Stainless Steel
NEMP 500/20
525 l/min (50Hz)
21,7 m (50Hz)
PP
PVDF
NEMP 800/30
830 l/min (50Hz)
37 m (50Hz)
PP
PVDF
HCP Serie
833 l/min (50 Hz)
33 m (50 Hz)
PP
PVDF
HMD Serie
833 l/min (50 Hz)
46 m (50 Hz)
PP
PVDF
HVP Serie
916 l/min (50 Hz)
36 m (50 Hz)
PP
PVDF
HKP Serie
1000 l/min (50 Hz)
38 m (50 Hz)
PP
PVDF