Datasheet Mobile Pump Aggregate
---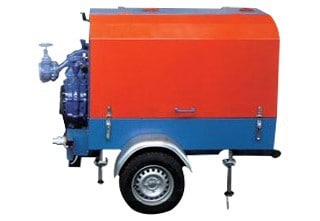 Mobile pump aggregate MPA is a new product on the market that distinguishes itself through its simple construction, capability of reaching high pressures, small size, minimal weight, easiness to move and easy maintenance. The single stage centrifugal pump is coupled with a diesel motor. Coupling is direct to the housing of flywheel or to the engine, and the shaft is coupled to the flywheel through the electric coupling. Those aggregates with good design and small proportions are put on an easily movable trolley with two or four wheels and with adjustable pole, regarding the height, for connection of the motor vehicle or tractor. The trolley is equipped with signal lights and a hand brake.
For self-priming, the pump is equipped with an injector as a self-priming device.
The injector works by means of using the outlet exhausted gases from the diesel engine.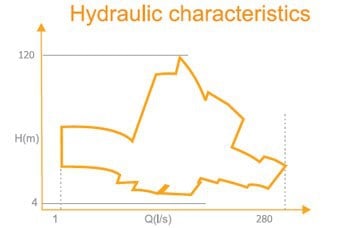 Advantages:
Mobility
Easy maintenance
Application in areas without electrical supply
Self priming – provided from exhaust gases of the diesel motor (there is no need of loading the suction pipeline with water)
Drive:
Diesel motor
Tractor with cardan shaft
Technical data:
| | |
| --- | --- |
| Capacity: up to | 280 (l/s)) |
| Head: up to | 120 (m) |
| Suction lift | ca. 4-6 (m) |
Applications:
Irrigate with artificial rain
Surface irrigate
Drainage
Agriculture, industry, civil engineering
Anti-fire purpose
Pos.
Component
Material
1
Pump Case
Cast Iron
2
Impeller
Cast Iron
3
Shaft
Stainless steel
4
Shaft sleeve
Stainless steel
5
Bearing bracket
Cast Iron
6
Pump cover
Cast Iron
Optional materials: Cast iron (Gray, Ductile), Cast steel, SS (AISI 304, 316), Duplex SS, Super duplex SS, Bronze,  AI, other on request.
Übersicht