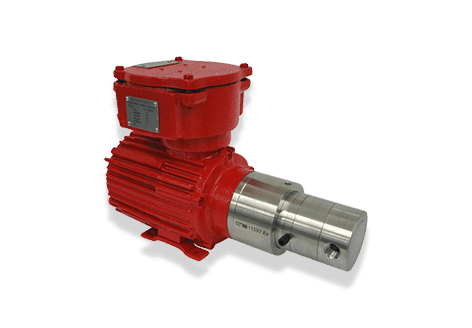 Micro annular gear pumps are miniaturized rotary positive displacement pumps.
They are based on the so-called micro annular gear principle with an externally toothed internal rotor and an internally toothed outer rotor.
The inner rotor has one less tooth than the outer rotor. To use the gear ratios get 6/7 and 10/11.
The manufacturing tolerances of the rotors are a few microns in the area.
The product range includes five series of micro annular gear pumps for metering and promoting low volume liquid low to high viscosity media.
With different equipment dosing volumes are from 0.25 .mu.l, flow rates of 1 ul / h to 1.1 l / min and pressures from 0 to max. 150 bar feasible.
The range of media viscosity ranging from 0.3 to 1,000,000 mPas.
They are suitable for lubricating and non lubricating liquids. Operation in explosion-proof area is also possible.
The pumps are characterized by low pulsation, low-shear promotion, low void volume, long service life, low weight and a compact design,
self-priming behavior and wear and corrosion resistant materials.m, selbstansaugendes Verhalten sowie verschleiß- und korrosionsbeständige Werkstoffe.
| | Pumpenname | Volumen-storm | Verdrängung­s­volumen | Werkstoff |
| --- | --- | --- | --- | --- |
| | mzr-11508 | 0,19 – 1152 ml/min | 192 µl | Edelstahl 1.4435 (316L) |
| | mzr-2521 | 0,0015 – 9 ml/min | 1,5 µl | Edelstahl 316L, Keramik, Hartmetall Ni-Basis, Epoxidharz |
| | mzr-2905 | 0,003 – 18 ml/min | 3 µl | Edelstahl 1.4404/1.4435 (316L) |
| | mzr-2909 Ex | 0,003 – 14 ml/min | 3 µl | Edelstahl 1.4404/1.4435 (316L) |
| | mzr-2921 | 0,003 – 18 ml/min | 3 µl | Edelstahl 316L, Keramik, Hartmetall Ni-Basis, Epoxidharz |
| | mzr-2942 | 0,3 – 18 ml/min | 3 µl | Alloy C22 (2.4602) |
| | mzr-4605 | 0,012 – 72 ml/min | 12 µl | Edelstahl 1.4404/1.4435 (316L) |
| | mzr-4609 Ex | 0,012 – 56 ml/min | 12 µl | Edelstahl 1.4404/1.4435 (316L) |
| | mzr-4622 | 0,012 – 72 ml/min | 12 µl | Edelstahl 316L, Keramik, Hartmetall Ni-Basis, Epoxidharz |
| | mzr-6355 | 0,024 – 144 ml/min | 24 µl | Alloy C22 (2.4602) |
| | mzr-7205 | 0,048 – 288 ml/min | 48 µl | Edelstahl 1.4404/1.4435 (316L) |
| | mzr-7209 Ex | 0,048 – 255 ml/min | 48 µl | Edelstahl 1.4404/1.4435 (316L) |
| | mzr-7255 | 0,048 – 288 ml/min | 48 µl | Gehäuse Alloy C22 (2.4602) |
| | mzr-11507 Ex | 58 – 1152 ml/min | 192 µl | Edelstahl 1.4435 (316L) |