Product and Performance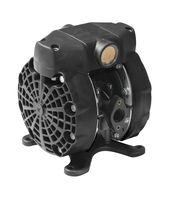 ---
In 2010, the INSIDE-OUT pump concept was reengineered to perfect execution of the Central Flow concept whilst retaining the advantages of traditional peripheral flow AODDPs over electric pumps and the advantages offered by the Central Flow design concept. For example, the complete air distribution system (the directional air valve module, end of stroke sensors and the air channels), was refined to avoid air leaks while keeping the fast reciprocating action and the possibility to work with real world air supplies: non-lubricated, oily, dry, humid and dirty. Also, flap valves were replaced with ball check valves, widely used in traditional AODDPs. Ball check valves have proven over the years to provide reliable sealing and tolerance to solids in suspension. A wider range of wetted materials is available, allowing complete compatibility with most fluids.
Compared to the superseded year 2000 central flow and flap valves pump design,
Directflo® advantages include:
Complete fluid containment, no fluid leaks in both metallic and plastic versions (increased number of flange bolts, plastic models include a stainless steel clamping flange).
No compressed air leaks from the air distribution system, including when the pump is in standby in a deadheading application with the fluid outlet line closed.
Pump stops when the fluid outlet line is closed.
Non stalling air valve, pump starts up reliably every time.
Increased suction head.
Total compatibility of pump wetted materials to pumped fluid (increased range of diaphragm and check ball materials).

Directflo Information Sheet
Technical Data
| | | |
| --- | --- | --- |
| Flow Rate | 38 l/m | |
| Delivery Head | 70 m (@ 7 bar) | |
| Pump Casing Material | div. Kunststoffe | Aluminium, Edelstahl |
---
Dimensions and component parts