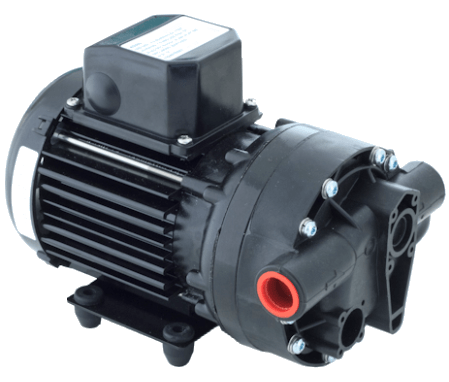 Electric diaphragm pumps are pumps that operate according to the displacement.
The axial deformation of the diaphragm, the medium of the pumping chamber is moved into the discharge line.
By resetting the diaphragm to its initial state, the medium is sucked into the pumping chamber.
Valves prevent the return flow of the liquid.
The diaphragm is the sealing element to the atmosphere.
Diaphragm pumps are self-priming and suitable for dry running.
Since the service life of the membranes may be limited depending on use, this may need to be replaced.
| | Pump Name | Flow | Pressure | Material | Datasheet |
| --- | --- | --- | --- | --- | --- |
| | AD 4/90 | 3 l/min | 89 m | Nylon | |
| | PCQ 12/10 | 9 l/min | 50 m | PP | |
| | AD 550 | 10 l/min | 28 m | PP | |