Standard Pump has designed a range of unique, preconfigured DEF Pump Packages that are engineered to transfer AdBlue (AUS32) Diesel Exhaust Fluid (DEF) directly from barrels, drums and Intermediate Bulk Containers (IBC).
Pump Packages are CE and UL listed to meet stringent European (CE) and North American (UL) safety standards.
AdBlue Pump Packages include:
sealless pump
variable speed motor
dispensing nozzle (manual or auto-shut off)
compatible hose and barrel adapter
Motor drives are available in pneumatic or electric (110 or 230v) versions
The sealless design allows the pump to be run dry or back pressure applied without damage to the pump or motor.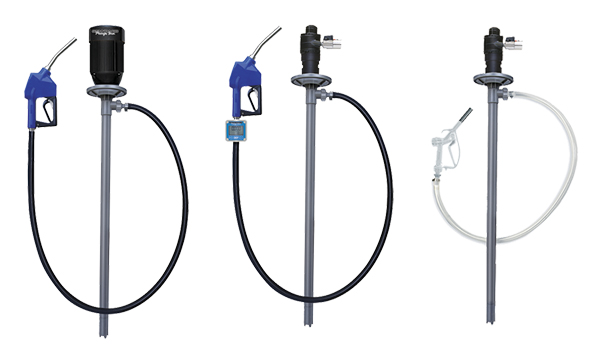 Available AdBlue / Urea Pump Packages
Electric Package with Manual Nozzle
Electric Package with Automatic Shut-off Nozzle
Electric Package with Automatic Shut-off Nozzle & Meter
Air Package with Manual Nozzle
Air Package with Automatic Shut-off Nozzle
Air Package with Automatic Shut-off Nozzle & Meter
Special configurations are available upon request
Package Components & Accessories
Pump Tube
Electric Motor
Pneumatic Motor
Flow Meter
Automatic Shut-off Nozzle
Manual Nozzle
AdBlue / Urea Hose
Clear Braided PVC Hose
AdBlue pumps downloads